ENGAGEMENT RINGS
CRAFTED FOR UNFORGETTABLE MOMENTS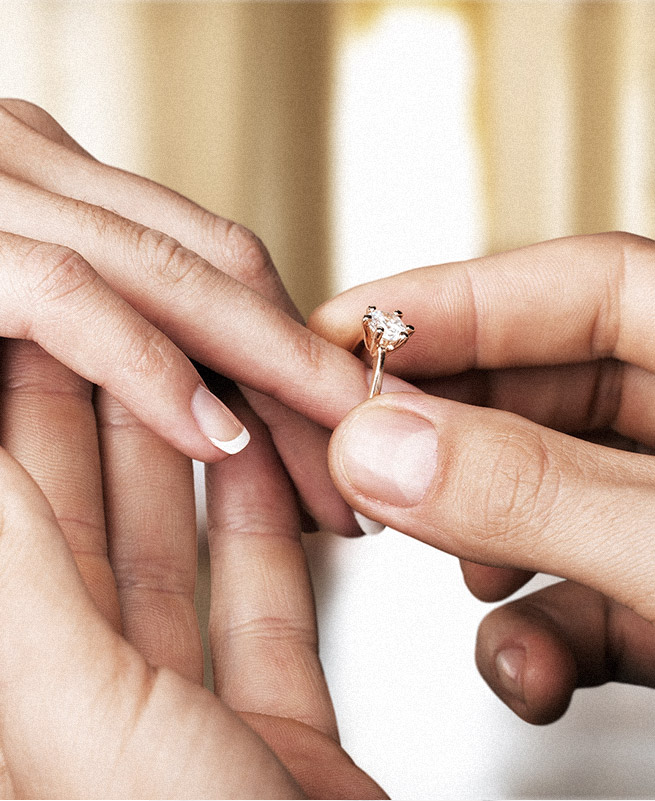 ENGAGEMENT RINGS
CRAFTED FOR UNFORGETTABLE MOMENTS
Marriage proposal is a milestone in every couple's story: the moment he pops the ring and get ready to ask, is probably the most crucial question he will ever do. At this time, there are only two things that matter: She has to say Yes, and she has to love the engagement ring.

Although there is not much we can do for the first part, when the second is concerned, we have some advice that will help you select the perfect engagement ring.
DECIDE THE AMOUNT
YOU WILL INVEST
When it comes to engagement rings, the choices are many and different. If you haven't set your standards firsthand, you might find yourself confused by the range of alternatives. Your starting point is your budget. This amount will help us guide you towards the most appropriate engagement rings for you.
1
LEARN ABOUT DIAMONDS
As we explain in the relevant section, the value of a diamond is the resultant of 4 parameters, known as the 4Cs: Carat weight, Color, Clarity and Cut. We will be very pleased to welcome you in any of our stores and thoroughly explain to you everything about diamonds, to answer your questions and make sure that you have chosen the best diamond for the occasion.
2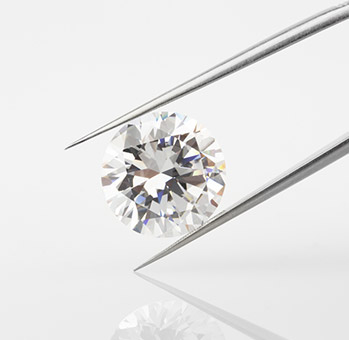 SELECT THE STYLE OF THE ENGAGEMENT RING
The engagement ring must fit with the bride's lifestyle, as it will become a part of her everyday life and her personality. Remember if she ever mentioned anything about the kind of engagement ring she prefers-perhaps when looking at a shop window or a friend of hers? If not, then your task is to evaluate her style as a whole: is she eccentric or conservative? Does she like classic or modern styles? These choices are valuable guidelines for us, as we can translate them to shapes and cuts. Take a look at the jewels she already has: does she prefer white metals or yellow gold? The minimalistic lines or more fancy designs? Share your conclusions with our team and we will help you narrow down your alternatives and ultimately select the best engagement ring for your beloved.
3
DO THE BEST WITH YOUR BUDGET
While browsing the alternative engagement rings that fit your budget, there are several ways to maximize the value of your money. For instance, you can choose 18carat platinum, as it looks the same but is costs significantly less.
Another smart choice is to enhance the diamond with smaller brilliants or a two of them on its left and its right. This will result in a very stunning result, as the central stone will be smaller, but will look must bigger.
4
FIND OUT HER SIZE
All you actually need to do is to take a ring she already has. If this is not possible, you can try it yourself and mark the point it fits on your fingers. These two easy and practical ways can give us the insights we need. However, if you still are uncertain about your choice, do not worry: after she says "YES" you can bring it to our stores to adjust the size, without any charge.
5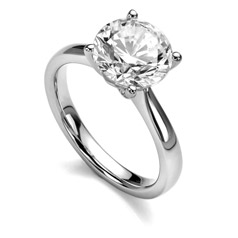 Solitaire
Α diamond mounted, ideally, in 4 or 6 parts from major security and shine. This is a classic choice, the epitome of elegance.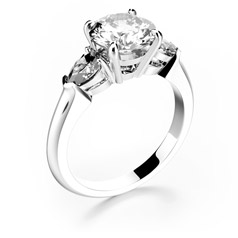 Sidestone
Two stones, that can be smaller sized diamonds or different, even coloured stones, are placed on the left and right side of the central diamond. This design facilitates the interplay with light, while remaining timeless, but differs from the classic solitaire..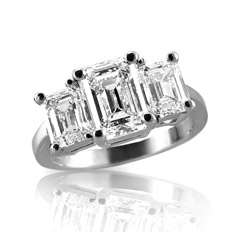 Three Stone
Three diamonds, with the larger usually placed in the center and the smaller ones on both sides.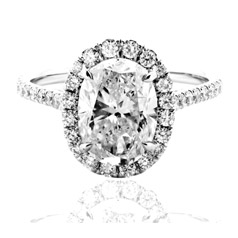 Halo Setting
The central diamond is framed by smaller ones. In this manner, the ring becomes brighter, while the diamond looks bigger.
EVERYONE IN VENETIA VILDIRIDIS STORES IS AT YOUR DISPOSAL, TO SELECT THE IDEAL ENGAGEMENT RING, FOR A MOMENT THAT CAN BE NOTHING LESS THAT PERFECT.